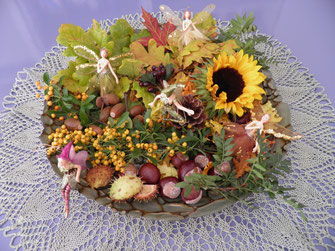 ... nebelige Morgen, Nieselregen und buntes Herbstlaub. Der Herbst hat definitiv Einzug gehalten. Es ist die Jahreszeit, um zu Ernten, was das Jahr über gereift ist. Eine mystische und verheißungsvolle Jahreszeit. 
Season of mists and mellow fruitfulness
Close bosom-friend of the maturing sun
Conspiring with him how to load and bless
With fruit the vines that round the thatch-eves run;
To bend with apples the moss'd cottage-trees,
And fill all fruit with ripeness to the core;
To swell the gourd, and plump the hazel shells
With a sweet kernel; to set budding more, 
And still more, later flowers for the bees,
Until they think warm days will never cease,
For Summer has o'er-brimm'd their clammy cells.
...
John Keats
Jetzt neu bei FabFrankie, Lippenbalsam in Schoko-Minze, Honig-Lavendel, Honig-Zitrone. Genau richtig für die kalte Jahreszeit.